About Me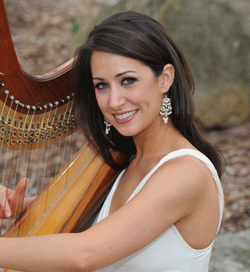 Ansley Unsworth has been performing in the Chattanooga and surrounding areas for the past twelve years. She began studying the harp at the Cadeck Music Conservatory at the University of Tennessee at Chattanooga in 1998 under the direction of Betty Spencer.
Ansley has performed at The Tivoli Theatre, the Walden Club, the Fairyland Club, the Mountain City Club, the Cleveland Country Club, Patton Chapel, Barnsley Gardens, the Grandview Inn, Lindsay Street Hall, the Chattanoogan, The White Stone Inn, Lee University, Life Care Centers of America, for many churches and at many other venues.
Ansley is available for performing for your wedding ceremony, wedding reception, bridal shower, rehearsal dinner, private party, corporate event, banquets, holiday events, church services, etc.
Add a touch of elegance and ambiance with the harp at your next event with Ansley Unsworth.